Foot arch pain

A properly formed longitudinal and transverse arch accurately mimics the terrain we walk on. It also informs the central nervous system about the structure and unevenness of the terrain. If either the transverse or longitudinal arch collapses, it does not function properly and can cause pain and discomfort. In this article, you will learn about the causes of arch collapse, prevention methods, and ways to deal with a collapsed arch.
Content of the article
What exactly is the arch of the foot?
Our feet are crucial, yet we often take them for granted. They bear our weight and take us wherever we need to go. We must take good care of them so they can continue functioning properly and carry us for a long time. Neglecting foot care can have serious consequences, such as a painful collapsed arch. The arch naturally begins to drop from age twenty-five, but we can "help" it fall quicker or sooner. What is the foot arch, and how do we find out if our arch has collapsed?
Throughout our entire lives, our feet carry us. For the human body to maintain stability, it must have support at three specific points. The weight and centre of gravity are distributed between these points, which are located on the foot. These support points consist of the bump of the heel bone, the area under the little toe, and the area under the big toe. Two arch systems are created between these points, namely the transverse and longitudinal.
Muscles and tendons uphold these arch systems. We are genetically adapted to walk barefoot over hard and uneven surfaces, putting equal strain on the muscles and tendons. However, nowadays, most people wear tight shoes with fixed foot support (such as an insole with a raised arch) and walk on flat surfaces. This type of footwear causes uneven strain on the foot, overloading the muscles on the back of the leg and the Achilles tendon, which in turn causes the arch to drop. This, along with other issues, is often caused by inappropriate footwear.
Hormonal imbalance can also challenge the strength of the arch, especially during pregnancy. When the body prepares for childbirth, the ligaments throughout the body soften and relax (all of them, not only those in the pelvic area). This can cause additional stress on the arch. Therefore, it is vital to take care of your feet during pregnancy, wear appropriate shoes, and regularly stretch your feet and let them rest.
How do I find out if I have a collapsed arch?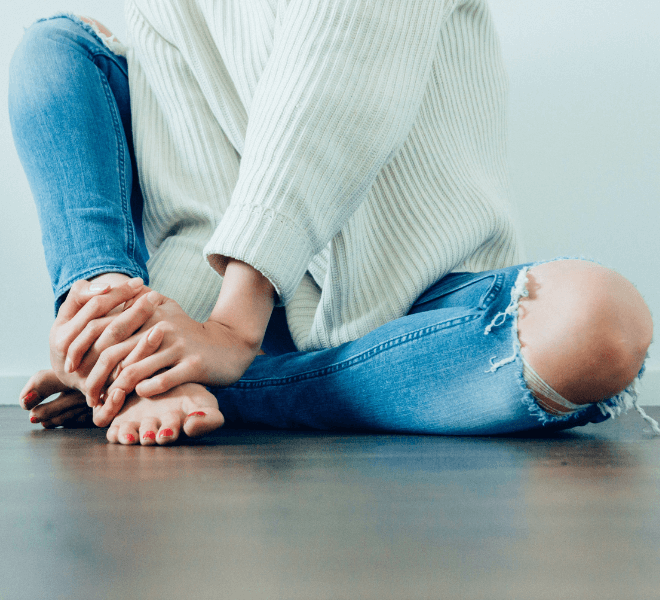 Determining whether you have a fallen arch is a relatively straightforward process. Simply take a look at your feet. If you have a collapsed arch or flat foot, it will be apparent to the naked eye. While some people may have collapsed arch yet feel no symptoms or pains, others may experience pain in their feet, bunions, or hammertoes. You may not even realise that your arch has dropped or feel any discomfort, but you may suddenly notice that your shoes no longer fit properly or cause blisters, even if you've worn them comfortably in the past. A collapsed arch may be the cause of all of these problems. Regardless of the severity of the symptoms, it's critical to address the issue promptly to prevent it from worsening.
Shipping early December
12 sizes
Shipping mid-December
12 sizes
Shipping at the end of December
12 sizes
in stock all sizes
8 sizes
Other colors available: (+
-5
)
What should I do if I find that I have a collapsed arch?
Firstly, take a seat, relax and read this article. All jokes aside, a fallen arch is no laughing matter. It can cause severe discomfort and complications such as bunions, hammertoes, and pain extending from the feet to the legs and the back. Flat feet should not be ignored. If your arch has already collapsed, seeking professional medical advice from a doctor, podiatrist or skilled physiotherapist is recommended. They will evaluate your situation and propose the most suitable solutions. Depending on the type of fallen arch you have, be it transverse flat feet, longitudinal flat feet or combined flat feet, they may suggest corrective aids, inserts, and exercises. Exercises are crucial to achieving pain-free feet, and we have listed some for you to try out.
Exercises for healthy feet:
The easiest exercise at home is using your toes to lift and move small objects, like handkerchiefs, pencils, or pebbles.
Sit comfortably in a chair and grasp your foot with your hand. Intertwine your fingers between your toes, then bend your toes forward and backward. Repeat 5-10 times
You can use three plastic bottle lids to activate your foot. Place one lid under the big joint of your big toe, another under the pinky toe, and the third under the outer edge of your heel. Stand in this position for as long as possible, then switch legs.
To perform this exercise, tie a thicker elastic band around both feet' big toes. Stand at the width of the rubber band so that it is taut but not pulling. Then, alternately pull your feet apart and towards each other, so that you feel a gentle pull on your toes. Do this exercise for one minute and take a break. For best results, repeat this exercise in a 15-minute series 2-3 times a day.
Creating a sensory carpet (or path) at home is easy and can provide a variety of foot stimulation. You can use different materials such as pebbles (make sure they're round and not sharp), wood, bottle caps, acupressure pads (available in sporting goods stores), artificial grass, and more. It's similar to how we used to walk barefoot on a ladder in kindergarten to stimulate our arches. Why not give it a try?
It is important to challenge yourself and expose your feet to different stimuli. Try running barefoot on grass, pebbles in the river, or sand. Kids love this activity and know why it is beneficial.
Although there are aids and inserts available in pharmacies that can relieve foot pain, they cannot cure collapsed arches. Only a doctor can fix this deformity. Flat feet can be treated surgically if the foot deformity has already occurred. Treatment for hallux is also possible through surgery, and the arch can be adjusted alongside it. However, it is important to consider the recovery time of the surgery, which is not pleasant for the foot. Our feet are essential in carrying us around, so it is necessary to exercise regularly, choose suitable shoes, avoid overloading your feet, and take good care of them. Ultimately, can a fallen arch be prevented?
Shipping early December
12 sizes
Shipping mid-December
12 sizes
Shipping at the end of December
12 sizes
in stock all sizes
8 sizes
Other colors available: (+
-5
)
Prevention
From age twenty-five, the arch of the foot starts to drop naturally. However, through prevention, we can ensure that this decline is gradual and not painful. What are the key points in prevention regarding a collapsed arch?
Weight
It is important to take care of our feet since they carry all of our weight. One way to do this is to maintain a healthy weight. This is not about extreme diets, but rather an active lifestyle and a balanced diet. By taking care of our bodies, we are also taking care of our feet. It is important to remember that we only have one body, so it deserves to be well taken care of.
Shoes
When choosing footwear, it is essential to pay attention to the size and fit of the shoes. Avoid shoes that are too small or too big and those that squeeze your feet. Wearing shoes with elevated heels is also not recommended, as it can disrupt your body's natural balance. Your foot should be able to distribute weight evenly between the three points of support. If you want to learn more about choosing the correct shoe size, you can read about it here. Many doctors and physiotherapists confirm the benefits of going barefoot. However, personal stories of individuals who have switched to barefoot shoes and felt the difference in their bodies are the best testament to its benefits. You can read more about the benefits of barefoot shoes on our blog.
Do not strain your feet
When we wear improper footwear, such as high heels, we strain our feet significantly. To help our legs recover, we can exercise or soak them in a medicinal salt bath and massage them. It's essential to take care of our feet after they have carried us around all day and give them the wellness they deserve.
Sedentary job, travelling
If you have a sedentary job or travel for extended periods, taking breaks, walking around, and exercising your feet a little is important. Standing on your tiptoes a few times can keep your feet moving and blood flowing. Not only will this help you avoid the uncomfortable feeling of a "dead leg", but it can also prevent falls caused by sudden loss of leg function when standing up after prolonged sitting.
Correct walking stereotype
Many people walk incorrectly by stepping over the heel and tilting their centre of gravity forward. However, the correct way to walk is by stepping on the front part of the foot first. To achieve this, you can try wearing barefoot shoes, which naturally stimulate the foot and encourage the proper walking pattern. Be Lenka barefoot shoes are a great option, as they provide excellent care for your feet while also looking fashionable.
Leonardo da Vinci once stated that the foot is a masterpiece. It's composed of 19 muscles, 107 ligaments, and 28 bones. It is also one of the most stressed parts of the human body. That's why taking care of your feet is crucial. Any unresolved issues with your feet can lead to negative consequences, so they should never be underestimated. Something as simple as foot pain while walking can eventually develop into calf, spine, or even pains and aches all over your body. This can make every step an ordeal, which none of us wants. Therefore, it's essential to exercise regularly, wear high-quality footwear, and indulge yourself in some well-deserved foot relaxation.