Do you feel foot pain? What causes it and what helps to cure it?

In the past, people used to walk around barefoot, no matter the temperature or whether it rained or not. It is hard to imagine that these days. And it's even harder to walk down a street without longingly looking into the shop widows with shoes and not admire all the modern and designer pieces that we would all like to have at home. Unfortunately, we tend to prioritize quantity over quality quite often.
Table of contents
Why is my foot hurting?
Poor quality, cheap shoes (it is crucial to have as many fashionable pairs in the shoe storage as possible, right?) can cause real damage. Do you have back pain? Foot pain? Hallux? Recurring blisters, nail problems or mycoses? Have you tried everything to get rid of these without any success? Improperly chosen or low-quality footwear can be the cause of many health problems. Let's take a closer look at the problems that can arise when not enough attention is paid to the choice of shoes that we buy.
Places where the foot hurts
The foot is a small mechanical miracle. It consists of 26 small bones, 30 joints and more than 100 muscles, ligaments and tendons. They all work together so they can take us to wherever we wish to go. Amazing, right? Pain can affect any part of the foot. The heel, the arch, we can experience toe pain, sole pain and even back pain due to a problem with the foot! The pain can be felt while walking but even at rest. It may be mild but it can escalate to the point where every step we make will be a suffering. So, what is behind the problem and what to look out for.

Immediate warning signals – short-term effects
Problems causing foot pain that appear almost immediately after wearing low-quality and ill-fitting footwear. They serve as a warning signal that something is not right. Which ones are they?
Blisters
A blister appears as a reaction to long-term mechanical action (friction and pressure) on the skin. When the skin of the foot rubs against a shoe that is too narrow or too small, irritation and inflammation occur. The skin turns red, swells and hurts. In the end, a watery blister is formed on the irritated spot. Although it might not seem like it, the role of the blister is to protect the skin from any further mechanical damage. However, as the foot is interwoven with a number of nerve endings (only the lips and finger tips have more), blisters tend to be painful and very unpleasant. Luckily, the formation of blisters can be prevented. It is important to keep the foot dry and therefore, choosing shoes that are breathable is crucial. Last but not least, the appropriate shoe size must be chosen to avoid the any unnecessary friction.
Corns (chicken eye)
The chicken eye is a thickening of a region of the skin with a centrally accentuated deposit of hardened skin. They are created by a long-term pressure on a bone or a joint of the leg. Chicken eyes, like blisters, play a role in protecting the stressed area of the foot against any further damage. Chicken eyes can be hard or soft and if they are located in between the toes, they can also be wet. They can even contain blood vessels and nerve endings sometimes. In these cases, they tend to be extra sensitive and it is not that easy to get rid of them. Chicken eyes can be caused by a shoe that creates excessive pressure in specific areas or, conversely, by a shoe that is too big, doesn't hold the foot properly and the foot "floats" in it and gets rubbed.
in stock all sizes
12 sizes
in stock all sizes
12 sizes
in stock all sizes
12 sizes
in stock all sizes
12 sizes
in stock all sizes
$ 169

Excl. Tax
$ 152.10

Excl. Tax
12 sizes
in stock all sizes
3 sizes
in stock all sizes
3 sizes
in stock all sizes
3 sizes
in stock all sizes
12 sizes
in stock all sizes
12 sizes
in stock 11 sizes
12 sizes
in stock all sizes
12 sizes
Other colors available: (+
-5
)
Ingrown toenails
Ingrown toenails are a nightmare to anyone who has already had to deal with them in the past. Ingrown toenail (onychogryphosis) is one of the most commonly occurring foot problems. The main causes are shoes that are too tight or small (creating pressure on the front of the nail) in combination with an incorrect technique of cutting nails. Do you really like that one model of shoes but they don't have them in your size? Do they claim that the shoes will stretch? Boom and the problem is underway. An ingrown toenail that is not treated can get inflamed, mould can appear (more on that later in the article) and you will have no other choice but to entrust the problem to a surgeon. Ouch. How to avoid this? Dedicate more time and thought into choosing the right footwear, choose the size that fits you and treat yourself to a quality pedicure, even at home. Always cut your toenails straight and not too short.

Mycoses – Onychomycoses and Athlete's foot
As previously mentioned with nail problems, mould likes to come hand in hand with the ingrown toenail. Nail mycosis (onychomycosis) is a chronic infection caused by microscopic fungi that is treated locally. An average of 2-8% of people are affected by mycosis.
Mycosis of the skin of the foot, so-called Athlete's foot, is also caused by fungi. The fungi attack the skin of the foot, especially in between the toes. From here, it can be spread to the hands and nails.
Fungal disease is usually accompanied by a burning and itching sensation. Fortunately, it responds well to treatment so it is relatively easy to get rid of. It is important to note, however, that fungal diseases are likely to return in the future.
Humid environment is a breeding ground for moulds so if you want to avoid them, make sure that your shoes are breathable and ventilate them regularly. Mechanical damage to the foot, ingrown toenails and open wounds are also a gateway for infections and moulds, therefore, choose shoes that will fit properly, will allow the foot the be ventilated and won't rub. Also, pay attention to saunas and public showers and pools, always wear shoes that will protect your feet.
When the warning signs are ignored – long-term effects
"But those high heels are so nice, the blisters will heal." "They are a bit too small now, but they will surely stretch with time." "They might be uncomfortable, but my legs look so good in them..." This is certainly what some of us have said. And if only once, right? However, if we ignore the warning signals mentioned above long-term, we might end up having even worse problems. What problems? Read on to find out.
A fallen foot arch
A correctly formed longitudinal and transverse arch perfectly copies the terrain on which we walk and informs the central nervous system about its structure and any irregularities. This function is impaired if the longitudinal or transverse arch is fallen and not only that, it is also painful and causes discomfort. The arch is held in place by muscles and tendons. Humans are genetically adapted to walk barefoot on hard, uneven surfaces, putting equal strain on the muscles and tendons. However, since most people nowadays walk in tight shoes, which often provide a fixed support to the foot (an insole with a raised arch) and walk on straight surfaces, the foot is not loaded evenly, its individual part are overloaded (for example, the toe part in high-heeled shoes) and problems arise. Uneven loading of the foot, overloading of the muscles on the back of the leg and the Achilles tendon cause the arch to drop. All this and even more thanks to inappropriate footwear.

Hallux valgus – crooked big toe and hammer toes
Hallux is a deformity of the big toe joint. You must have noticed that some people have a kind of a protrusion at the base of the big toe or at the base of the pinky toe. Alternatively, the toe can also be curved towards the other toes. This deformity to the joint occurs when wearing shoes with a narrow front part, where the toe cannot be in its natural position and is pushed inwards. Hallux can also occur when the arch falls. Genetic predisposition also plays its part. Footwear, overloading or injury will do the rest. An untreated hallux can lead to deformation of the toes (hammer toes – digitus hammatus) and pathological reconstruction of the foot.
Hallux is treated non-surgically using various protective insoles and straighteners. Unfortunately, in many cases, the hallux is painful and must be removed surgically. Healing is relatively lengthy and not very pleasant at all. Hallux can be relatively successfully avoided by choosing shoes that do not oppress the toes and provide them with enough room for free movement. Such footwear is, for example, barefoot from the Be Lenka workshop.
in stock all sizes
12 sizes
in stock all sizes
12 sizes
in stock all sizes
12 sizes
in stock all sizes
12 sizes
in stock all sizes
$ 169

Excl. Tax
$ 152.10

Excl. Tax
12 sizes
in stock all sizes
3 sizes
in stock all sizes
3 sizes
in stock all sizes
3 sizes
in stock all sizes
12 sizes
in stock all sizes
12 sizes
in stock 11 sizes
12 sizes
in stock all sizes
12 sizes
Other colors available: (+
-5
)
Heel spurs and bony ridges on the heel bone
Does every step feel like stepping on needles? Do you have pain on the surface of the heel or on its inner edge? Does the pain limit you when walking, playing sports and even when you are inactive at night? You may be suffering from a heel spur. What is it? A heel spur is a bone growth on the heel that arises as a result of the pull on the tissues that attach to this bony protrusion. About 15% of people (mostly middle-aged) are suffering from heel spurs. What causes them? Repeated and long-term load on the foot, inappropriate footwear, foot deformities, injuries or rheumatic diseases. Heel spurs are usually treated conservatively – with physiotherapy, local corticosteroid injections, ultrasound or laser.
Bony ridges on the heel are a common problem, especially for teenagers who have not yet completed the development of the bones in the foot. The pressure and friction of the "immature" heel bone causes excessive production of bone tissue and thus a ridge is formed. In most cases, this condition is due to a problem with flat feet or wearing high heels at an early age.
Back pain and poor posture
There are many factors that can create backpain. Poorly chosen shoes can be one of the reasons why your back hurts. In particular, high-heeled shoes overload the lumbar part of the spine, and therefore, affect posture. If your back hurts, don't hesitate to see a doctor or a good physiotherapist. There is nothing worse than when pain prevents you from living fully and enjoying everyday pleasures.
Joint pain
Long-term overloading of the feet in incorrectly chosen and poor-quality shoes can lead to arthritis and knee pain. Especially if our feet have to suffer through long-term wear of extra high heels. Legs in high heels look sexy, but is it worth risking our health? After all, we only have one. We are not saying that you should give up your beautiful shoes for good, but you need to consider when and how much you will wear them and balance wearing them with wearing correctly chosen, ideally barefoot shoes. Balance has to be maintained in everything.
Problems need to be addressed in the beginning
If you are suffering from any of the above-mentioned problems, it is time to start solving them "from the ground up" (literally). And that is by buying the correct and high-quality shoes. Here, more than anywhere else, the rule that the problem must be solved in the beginning applies, before it turns into something more serious. So, if the shoes always give you blisters, they will most likely not be suitable for you and it is better to start looking for another pair. Last but not least, it is important to exercise with your feet if you are suffering from hallux valgus, a fallen arch, or foot or spine pain. Get in touch with a good physiotherapist who will examine your leg and suggest the right exercises. A "dead" foot which has suffered for a long time in bad shoes, will not be completely helped by just changing the shoes. It must be combined with exercise. If you have problems with blisters, chicken eyes or mycosis, see a doctor or get advice from a pharmacy. Do not be ashamed to solve your problems with experts.
Barefoot as a prevention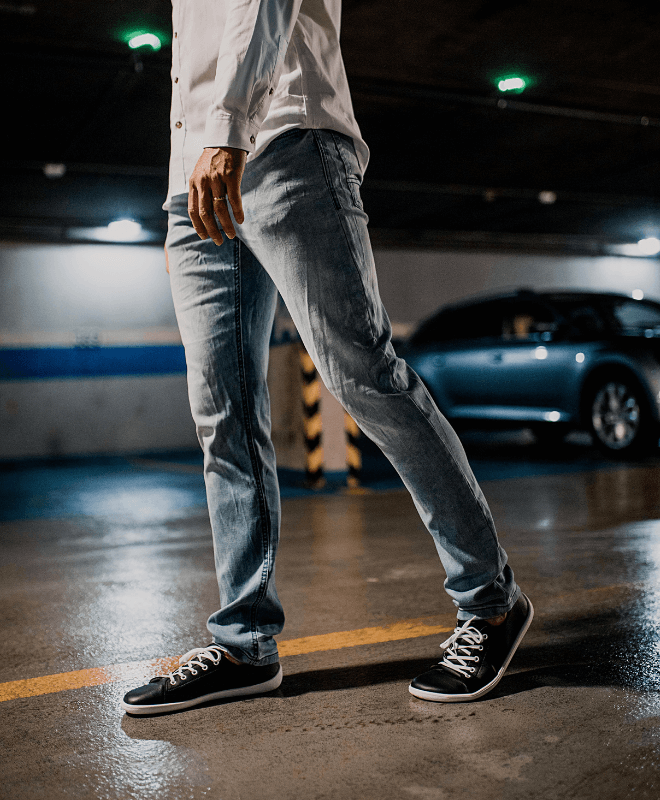 As we have already mentioned above, humans are genetically adapted to walk barefoot, where the entire foot and leg are equally loaded. Standard shoes cannot provide this due to the thickness of the sole, linings supporting the arch or high heels. Fortunately, however, barefoot shoes, which perfectly imitate barefoot walking, are becoming more and more popular. Are you wondering what barefoot is and what features these shoes have?

Barefoot is a completely different type of shoes compared to regular footwear. It differs mainly in the following:
The sole is flexible and very thin, the thickness doesn't exceed 6 mm. This sole provides the feet with contact with the surface, i.e., it imitates walking barefoot.
Zero drop – zero difference between the heel and the toe.
The wide front region of the shoes ensures enough space for the foot. The shoe must not closely follow the outline of the foot.
Barefoot shoes are light and without an arch.
What benefits do barefoot shoes bring?
Strengthened muscles and strong, healthy legs.
Help to eliminate pain.
Mental well-being and joy.
Stimulation of nerve endings in the foot.
Improve balance.
Be Lenka barefoot shoes
It all started with baby carriers and wraps for carrying babies, and it is continuing with barefoot shoes. Lenka from Žilina simply knows what is good and beneficial for people and wants to offer it to them. Be Lenka barefoot shoes are made of high-quality leather (her range also includes shoes that vegans will appreciate) that perfectly adapt to every foot. The inside of the shoe is made of cotton, the sole is made of highly resistant rubber, which is also incredibly flexible. The shoes are widened in the front and offer the toes an ideal space so that they can be in their natural position, not oppressed from any side. Fastening the shoes is very quick and easy, you don't have to re-adjust and fasten your shoes every time you take them off. The buckle has an adjustable width that can be adjusted exactly as needed and contains an integrated rubber band that can be stretched/contracted effectively. So, when you go to put the shoe back on, you only need to insert your foot into the shoe that is already fastened because the rubber band will stretch when you put it on and then it will hold your foot nicely in the shoe. In the current offer, Be Lenka also has winter barefoot shoes, which will warm you perfectly with merino, keep your feet dry, and at the same time, you will look great, stylish and original! What more could one wish for?
Our feet carry us all day, thanks to them we get where we want to or need to go. Their health affects our entire existence. If our feet are uncomfortable and in disarray, we can expect it to be reflected elsewhere. That is why the health of our feet must be taken care of, they should be given extra care and comfort they deserve. They will repay us in return by carrying us around the world without pain and with joy.