Recipes for 8 month old babies
Are you wondering what to cook for your 8 months old baby? Are you running out of ideas? You can get inspired and chose from nutritious and yummy recipes we gathered for you in this article.
Article content
The primary source of nutrition for the baby should be milk, whether it is breast milk or formula. Your baby should still be allowed to nurse/be bottle-fed on demand. By the end of the 6th month of your baby's age, you can start introducing solid foods, so-called solids. If you bottle-feed your baby with formula, you can start with solids as soon as your baby is 4 months old. Solids during the first year are only meant to complement breastmilk/formula. You should start with vegetable purees (one kind at a time), then proceed to 2-ingredient purees and if everything goes right, you can start feeding your baby 3-ingredient meals (either three kinds of veggies mixed together or meat/egg yolk mixed with 2 kinds of veggies). If you want to know more about how to start with solids, you can find everything you need in this article.
If you are interested in recipes and inspirations for your 8 months old, keep reading.
Recipes for 8 months old baby
The core of your baby's meals should be plant-based as veggies are healthy and full of vitamins. Milk (breastmilk or formula) should still play the crucial part in your baby's diet, up to the age of 1 (at least). You can mix different kinds of veggies; the sky is the limit to your imagination. You will not need to blend the food for your 8 months old anymore, just mash it with a fork or chop the ingredients finely.
8 months old babies can even try yoghurt for the first time. Choose wisely, plain white yoghurt consisting only from milk, cream and yoghurt cultures is the best. Avoid flavoured yoghurts as they contain colourants, sugar, and artificial flavours. Cereal porridges are babies' favourite meals; they make great dinners. Do not feed your baby porridge just before he/she goes to sleep, make it 1 – 1,5 hours before you kiss your baby good-night. You can choose from different kinds of porridge – rice porridge, oatmeal, buckwheat porridge, corn porridge and many more. Porridge is rich and filling, it can fill your baby's tummy for quite a long time but be careful and do not overfeed your baby as it can upset your baby's stomach.
Poultry recipes
When your baby reaches the age of 8 months, you can introduce meat to your normal food family. Your baby will not be able to chew it on his/her own for quite some time, so you will have to blend it or mix it. Low-fat meat makes an ideal choice for babies' sensitive stomach. Chicken and turkey should be your pick number one.
Chicken soup
You will need
a piece of chicken (a breast or a tight),
1 floret of cauliflower,
1 carrot,
1 potato,
a little chunk of leek,
water (approx. 500 ml)
Procedure: Cook meat in unsalted water. Add the carrot and leek. Cook for about 45 minutes then remove the meat and cut it into small cubes. Chop the potato and the cauliflower finely, add to the boiling broth. Cook until tender, then add the chopped meat and blend everything together. Use a little boiled water to dilute the soup if needed.
Chicken with spinach
You will need
1 carrot,
spinach (fresh leaves or frozen),
150g bottled water for babies,
50g cooked chicken,
2-3 tablespoons of lactose-free porridge.
Procedure: Wash and peel the carrot, then chop finely. Cook the carrot with spinach over medium heat until becoming mushy. Cook the piece of chicken and mix it. Add the meat to the mash, add 2-3 tablespoons of the porridge, stir well and serve.
Snacks for 8-month-old babies
Purees and porridge are perfect snacks in-between main meals for babies. Purees can be prepared either from fruit or veggies. It is up to your choice and imagination.
Fruit Purees
You will need
100g of the fruit of your choice (local and seasonal, preferably),
1 tablespoon of apple or pear juice,
3 tablespoons of lactose-free porridge or semolina (you can use store-bought porridge or cook it on your own).
Procedure: Wash the fruit and peel it, chop into small chunks and cook in a pot with a little water until becoming mushy. Stir occasionally. Add the juice at the end and stir it in. Voila, your fruit puree is ready
Vegetable porridge
Porridge with veggies is healthy, rich and full of vitamins.
You will need
1 medium-sized carrot,
1 teaspoon of olive oil,
120 ml of bottled water for babies,
1 and a half tablespoon of wheat semolina for babies.
Procedure: Wash and peel the carrot. Grate it, cook it in a pot with a little water until becoming mushy. Add semolina, olive oil, stir in and serve.
You can use different kinds of veggies. You can try courgette or pumpkin; they are so yummy. This recipe can be so much fun
Apple pies
Apples are the kids' favourite fruit. If introducing applies to your baby, you should start with apple purees. When your baby eats apples well and shows no sign of an allergic reaction, you can try different recipes with apples.
Apple bites
This recipe is really easy and delish! It is suitable for babies of 8 months of age and above.
You will need
500g of apples and
130g of semolina for babies.
Wash, peel and core apples, then grind them and mix with semolina. Cover it and let it set in the fridge for about 3 hours. Take a tablespoon (or ice-cream scoop) full and roll into balls. Cook in boiling water with a little sugar. They are done when they start to float on the surface. Drain them and serve sprinkled with a little cinnamon sugar or vanilla sugar (vanilla sugar is better for younger babies)
Apple-rice porridge
This porridge makes a lovely dinner.
Suroviny
20g rice flocks,
100ml bottled water for babies
1 teaspoon of butter
apples
Cover rice flocks with boiled water and set aside. Wait until it cools down a little and adds butter. Cut apples into small cubes / or grate them and stir well into the porridge. You can blend it or leave it this way if your baby prefers to feel the texture of the food.
Pasta for 8-month-old babies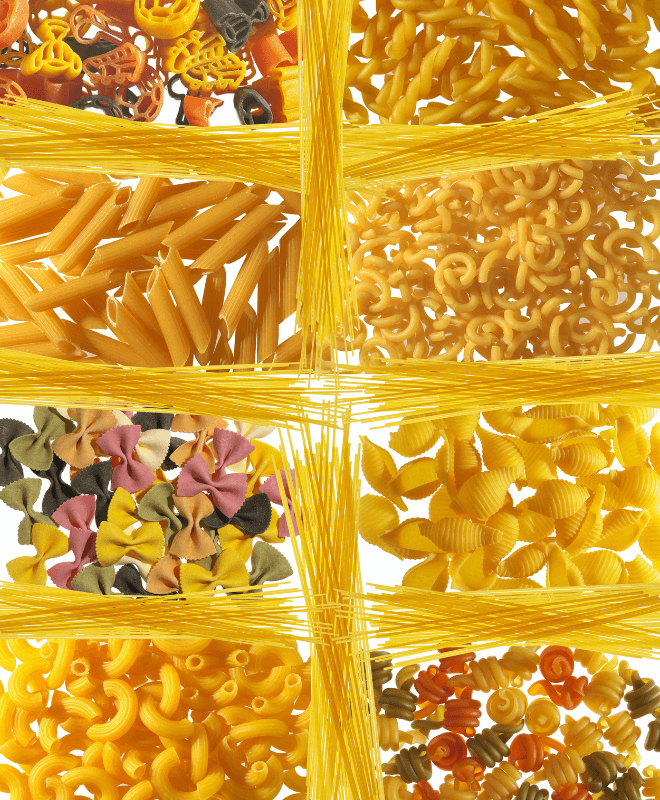 When cooking pasta for your 8 months old baby, choose egg-free pasta. Angel hair pasta is amazing because it is soft and easy to swallow. Older kids will love pasta in the shape of animals or vehicles. You can serve pasta with different kinds of veggies or meat. We do not recommend using salt because of your baby's sensitive kidneys and digestion.
Pasta with meat
Cook pasta in unsalted water according to package instructions. Drain and sprinkle with olive oil or melted butter. Serve with small chunks of cooked meat and sautéed veggies.
Pasta with veggies
Cook pasta in unsalted water together with veggies of your choice (finely chopped). Drain, sprinkle with olive oil or melted butter and serve. If you want to add more protein, you can top it with grated cheese.