How to take care of babywraps containing Tencel?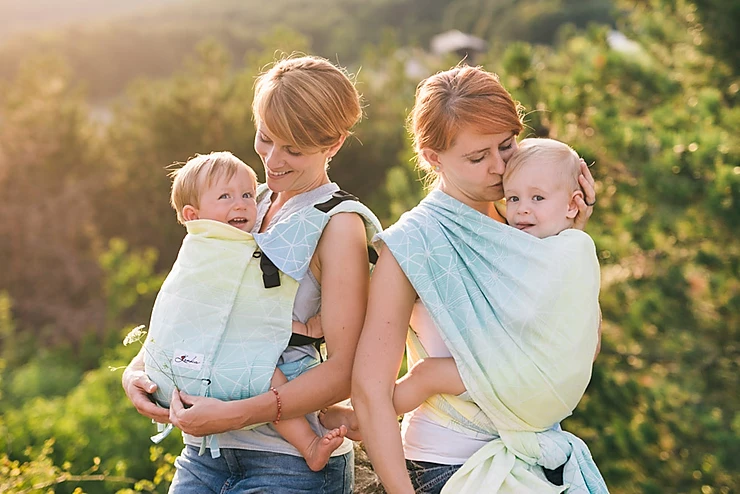 Lenka Babywearing Wraps & Carriers made with Tencel
Baby-wraps made of 100% organic cotton are suitable throughout the entire babywearing period. Mums often choose cotton wraps for wearing newborns and little babies, and later switch to wraps containing some functional additions (besides cotton). With its great functional abilities and minimal care requirement, Tencel is one of the most popular one.
Tencel baby-wrap features
Tencel is a natural material with great functionality. It is suitable for wearing bigger children as it has excellent weight bearing capacity. Tencel is a perfect choice for summer wearing because it is very airy. Having said this, tencel can be used throughout all the seasons (you do not need to worry about your baby being cold in a tencel baby-wrap during winter).
Tencel fibres may be thin, yet they are firm. A Tencel baby-wrap is airy and is able to carry heavier children at the same time. Tencel is pleasant to touch, just like silk, and makes babywearing comfortable. Unlike silk, it can be washed at a higher temperature in the washing machine. Tencel can absorb up to 50% of moisture without becoming significantly wet. Tencel baby-wraps do not need to be ironed often as they do not wrinkle much. These wraps require minimal care and you will love them! If you are looking for a Lenka wrap or a carrier containing Tencel, just look for one with "Caribbean"in its name.
How to wash a Tencel baby-wrap
You can wash your Tencel baby-wrap in the washing machine at 40°C. We suggest using a liquid detergent as it is generally better for washing wraps than powder detergents. Do not use a fabric softener. Adjust the spin speed to low. Wash your wrap separately, with no other textiles. After washing, spread your wrap and let it dry.
How to iron a Tencel baby-wrap
Tencel baby-wraps do not need to be ironed at all. But, If you insist, you can iron it when it has dried after washing, using the settings for cotton clothes (with/without steaming).
---