How to choose a babywrap for babycarrying?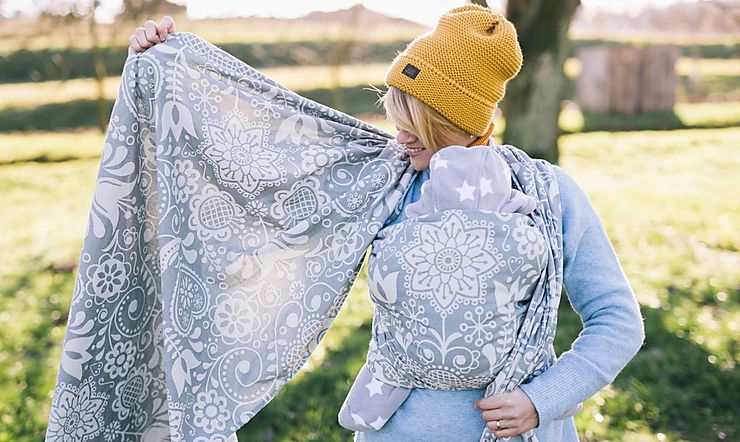 All about baby wraps from size to material weight capacity explained, read on.
Baby-wraps are becoming more and more popular. Wrap, as a material, is soft and comfortable. It hugs the baby's body perfectly, so it is ideal for carrying newborns, premature and small babies. Having said that, you can carry a bigger child in baby-wrap throughout the whole babywearing. You can choose from different material-weight capacities (low, middle or high), fabrics (100% cotton or wraps with different supporting materials such as linen, hemp, or silk) and several lengths. How to choose the right one? Which steps to follow? We will help you.
Material-weight capacity
Material-weight capacity is one of the basic parameters when choosing your baby-wrap. It is the weight of the material used per square metre. To calculate it follow this formula: the weight of the wrap in grams/surface of the wrap in square metres (surface = length x width of the wrap). Why do you need to know this number? Material-weight capacity shows the thickness of the wrap and therefore its ability to carry a certain weight. For example, a wrap with a material-weight capacity of 200g/m2 is much thinner than a wrap with a material-weight capacity of 300g/m2. Choosing wisely makes babywearing comfortable not only for the child but for the wearer, too.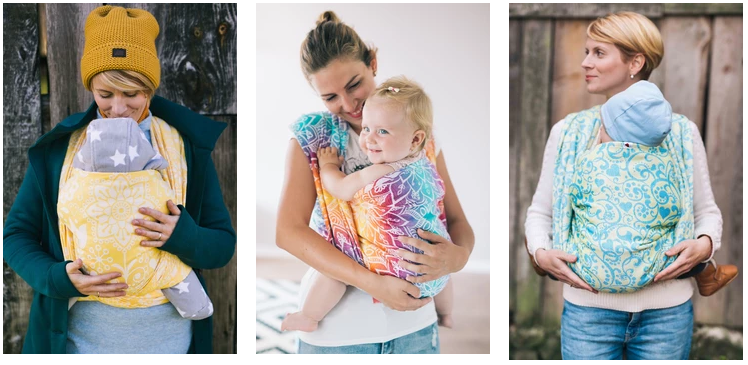 It is important to note that each wrap can hold the weight of an adult (just like a hammock), even those with light material-weight capacity. All wraps are strong and safe. The difference is the level of comfort during babywearing; a heavier child in a thin wrap may cause its straps to cut into the wearer's shoulders and therefore make babywearing painful and uncomfortable. If you wish to choose a wrap that will be suitable throughout the whole babywearing journey, you will be better off choosing higher material-weight capacity (over 270g/m2). The higher material-weight capacity, the thicker the wrap would be. However, the method of weaving is the most defining feature when choosing the right wrap. The right method can make even heavier and thicker wraps soft to touch. Lenka wraps are gentle and comfortable yet thick – with the material-weight capacity of around 310g/m2. They are suitable for newborns as well as toddlers. If you prefer, you Lenka wraps are also available with the material-weight capacity of around 260g/m2. The length
It is important to choose the correct length of your wrap; it should not be too long nor too short. Universal length is the most practical as it can be used for different styles of binding. The length is measured in sizes (size 2, size 3 etc.) or in metres. Chose the length according to your size – for sizes 38-42 choose a wrap 4,6m long. If you are the size 44 and above chose a wrap that is 5,2 metres long. Let's look at the length a little closer:
3.2 m length
Size 3. It is a relatively short wrap, commonly used for quick hip wrap cross carry or back wrapping (a simple rucksack carry, a back wrap cross carry with the inside pocket and knot under the baby's bum or coolest hip cross carry).
3.6 m length
Size 4, perfect for mummies of XXS size. This wrap can be used for basic cross carry with the inside pocket. It is also suitable for Hip Cross Carry and Back Cross Carry, Double Cross Carry, Kangaroo Wrap, Double Hammock without a knot. It is practical for wearing outdoors as its ends are not too long.
4.2 m length
Size 5, ideal for petite wearers of sizes 34-36. Perfect for both basic and advanced wrapping methods.
4.6 m length
Universal length, perfect for sizes 38-42 (women) and up to size 50 (men). Very handy when both parents are babywearing. Suitable for all kinds of wrap styles
5.2 m length
Size 7. Ideal for clothing sizes 44 and above (women) and 52 and above (men). Suitable for all kinds of wrap styles. Versatility of cotton
High-quality organic cotton is the best material for weaving baby-wraps as it is comfortable and versatile, as well as gentle and soft to the baby's sensitive skin. Maintenance is easy as cotton does not require special handling. You can wash it in low temperature 30-40°C (we recommend liquid washing detergent, no bleach, and no fabric softener). All Lenka wraps are made of cotton. These wraps do not need to be "worn" first to work properly. Lenka wraps are made ready.
And this is not all! Both the quality of the material and the material-weight capacity make Lenka baby-wraps perfect not only for carrying babies but for manufacturing baby-carriers, too! Lenka wraps and baby-carriers are handmade in Slovakia strictly maintaining European quality standards.


---